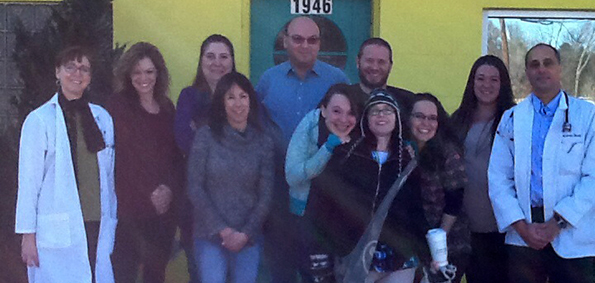 Welcome to Colonie Animal Hospital veterinary care!
The Colonie Animal Hospital was founded in 1940 by Dr. Jack Mindell and has been serving multi generations of pets and their owners for over 70 years. Dr. Martin Newman joined the staff in 1962 and by 1975 had purchased the animal hospital from Dr. Mindell. The hospital is now owned by Dr. Kinne and Dr. Koren-Roth.
Colonie Animal Hospital is one of the few animal hospitals in the United States to be a member of the American Animal Hospital Association (AAHA) for more than 50 years. As a member of AAHA, Colonie Animal Hospital adheres to rigorous requirements for quality medical care. These standards are upheld through periodic comprehensive inspections. AAHA has contributed greatly to the care of patients and encourages continuing improvement through meetings and seminars with that goal in mind.
Colonie Animal Hospital is equipped with an in house laboratory, a digital x-ray machine, therapeutic laser, ultrasound machine and an up-to-date surgery suite. Most diagnostic and treatment procedures can be handled within the hospital. Evening, weekend and holiday emergencies are referred to the Capital District Animal Emergency Clinic in Latham, NY.
We are located at 1946 Central Ave., Albany, NY, 12205. For directions, see the contact page or call us at 518-456-1613.